Sunday School
Sunday school is a ministry to all ages in our church with the following purpose: to teach the whole counsel of God, and to grow in our knowledge and understanding of Him, so that we may become more like Christ.
There are age appropriate classes for kids, youth and adults.
Sundays from 11-12PM,
following a coffee fellowship after the morning service.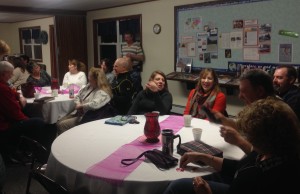 Classes meet to allow students to go deeper in their Christian learning and growth. We encourage family and Kingdom focus during the months of June, July and August by taking a break from the classroom.
Spring Quarter: March – June
The Gospel Project – Volume 6
EXHILE AND RETURN
—————————————————————————————————
In the fall of 2017, as a church we began the journey through The Gospel Project, a chronological, Christ-centered Bible study for Kids, Students, and Adults that examines how all Scripture gives testimony to Jesus Christ. Over the course of four years, participants will journey from Genesis to Revelation and discover how God's plan of redemption unfolds throughout Scripture and still today, compelling them to join the mission of God.
Join us as we seek to see how every story in scripture casts Christ's shadow.
—————————————————————————————————